Liberty Commons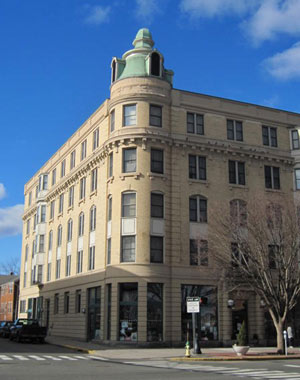 Liberty Commons, 8 Liberty Commons, a rehabilitated 1920s hotel, opened in 1996 as premier supportive housing complex for forty men and women who have a history of homelessness, mental, physical, and addiction disabilities. Its development sponsored by The Connection Fund, Inc. as part of the Supportive Housing Demonstration Program, earned Liberty Commons the distinction of being the first supportive housing site in Connecticut. Its success has helped Connecticut's supportive housing advocates make the case for further State investment in supportive housing. This paved the way for Connecticut's Supportive Housing Pilots Initiative and future initiatives which continue to provide supportive housing across the state.
Liberty Commons continues to attract the attention of supportive housing advocates throughout Connecticut. Our Housing Case Managers have a combined 43 years of experience and have helped to develop many of the best practices for support services that are now in use in programs across the State. For more information contact Terry Carbone, Service Coordinator at Liberty Commons at (860) 347-4059 or
terry@svdmiddletown.org
.
Next Steps Supportive Housing Initiative and HUD Supportive Housing Program (SHP)
Thirty formerly chronically homeless individuals currently enjoy their own apartments, in our scattered-site apartments throughout the city. We adopted the Housing First model in 2008 because emergency shelter and short-term services are necessary interventions for those in crisis, but they will not address the complex problems that many homeless individuals and families face. Issues such as addiction, mental illness, and poverty have left many people homeless for multiple years (the chronically homeless). St. Vincent De Paul Middletown, as part of the Middlesex County Coalition on Housing and Homelessness of the The Middlesex County Ten Year Plan to End Homelessness, is determined to reorient our community's service system from one that manages the homeless to one that prevents and ends homelessness.
The Housing First model is based on the belief that housing is a human right and chronically homeless people shouldn't have to "prove that they are worthy of housing." In fact, permanent supportive housing similar to ours has demonstrated that by providing housing first, many chronically homeless individuals begin to make significant strides to improve the quality of their lives through better health and dental care, recovery from drugs and alcohol, a willingness to receive treatment from mental health clinicians, employment, new social networks, and so on. We provide intensive case management supports to ensure that the tenants receive the services they need to remain successfully housed permanently.
Tenants who have income pay 30% of their adjusted gross income towards their monthly rent and utilities. The participant signs his/her own rental lease, the State or Federal government provides the rental subsidy, and St. Vincent DePaul Middletown helps to facilitate payments and services. Our housing team provides a comprehensive tenant orientation that discusses the expectations of each lease, landlord/tenant communication skills, housekeeping, fire and security safety, basic non-violent approaches to conflict resolution, budgeting, shopping and food preparation. The case managers provide transportation to medical and mental health appointments and act as advocates for obtaining other services and entitlements.
For more information, contact Ron Krom,
ron@svdmiddletown.org
.
617 Main Street
Middletown, CT
PH: (860) 344-0097
FAX: (860) 343-0023

St. Vincent De Paul is a nonprofit, 501 (c ) (3) charitable institution. We rely on foundation and corporate grants, and contributions from individuals and groups in the community.

SIGN UP FOR OUR

NEWSLETTER